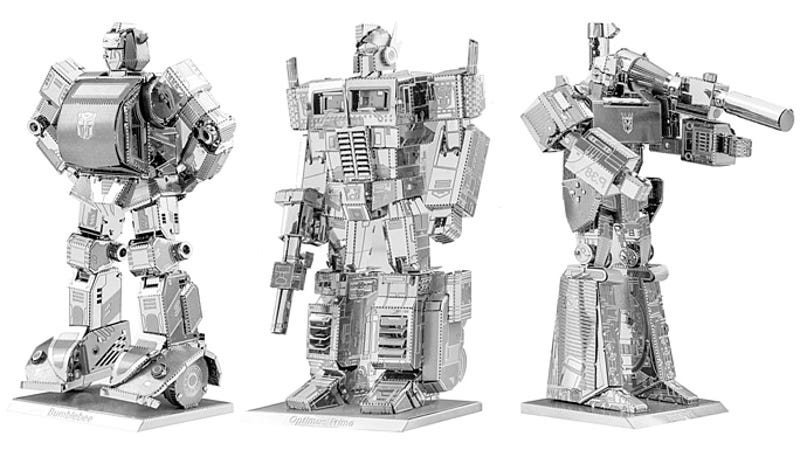 If you're looking for a difficult challenge in life, try building a perpetual motion machine. But if you want an impossible challenge, try assembling one of these intricate laser-cut metal puzzles that are now available in Optimus Prime, Megatron, and Bumblebee versions.
They're not quite as detailed as that magnificent Halo Master Chief motorcycle helmet from last week, but these equally beautiful hand-painted helmets from Air Graffix also won't require you to mortgage your home to afford one. They range in price from $500 to $800 depending on the amount of detail required to…
Brothers Brick contributor Ralph Savelsberg built this pretty cool model of a Camaro - but wait until you see what makes it so amazing.
Part of our problem with 3D anything is that the glasses make you look kind of silly. Even in the dark. Which is why I almost love these Transformer 3D glasses—if you're gonna look dorky, own it.
Considering that we love Transformers and toys, it's no surprise that we're drooling over these Transformer-themed Bearbricks. The foursome of Optimus Prime, Megatron, Bumblebee and Barricade were spotted at this year's Wonder Festival in Tokyo. The specialty toys from Japan come in various themes and colors, and this…

In another obvious ploy for publicity, page views and notoriety, the Blendtec Corporation this time puts the Transformers to the test in its (figuratively) fire-breathing and (literally) nail-chewing blender. What will happen? Will Bumblebee suddenly transform into the formidable beast he really is, fighting his…
Plug Beatmix Bumblebee into your MP3 player and he'll dance to his own mix of your music library, adding beats and sound clips from the movie, for as long as his four AA batteries last. Since he plugs into portables, you'll be able to take him everywhere. Transformers get-togethers. Work. Put an upside down hat next…