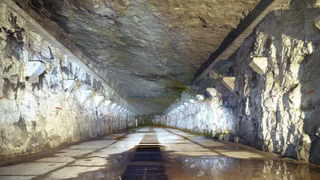 From a secret treasure trove below the memorial to Oliver Wendell Holmes in DC to a retrofitted quarry in Wales, our governments have gone to great lengths to protect precious objects from ruin—and a new trove of declassified documents shine light on a new, little-known project to do just that during the Cold War.
Last week, we wrote about a project in London that sounds straight up apocalyptic: A massive underground farm inside a 60-year-old bunker, originally built to protect Londoners from Nazi bombs. Now, we have video—and it's every bit as spooky as you'd think.
We've seen such luxury end-of-the-world residences as the Vivos doomsday shelters, but Vivos aren't the only folks pioneering fallout chic. Meet Edward Peden and Larry Hall. The former deals in selling bunkers to prospective homeowners and survivalists, whereas the latter is helming a residential development known as…
You might be familiar with Pink Visual, a major porn player, because you've possibly masturbated to some of their work. If and when the world ends in 2012, they don't want that to stop. So let's build a bang bunker.

When explosives begin raining from the sky, it's generally recommended that one find a sturdy, preferably covered, area to wait. Our friends at Oobject.com have some great examples.
Across wartime Western Europe, defensive bunkers sprung up to uneasily counter the constant threat of the enemy. Some on land, some by sea, but now, all derelict. Photographer Jonathan Andrew toured several countries to capture these haunting, dilapidated relics.