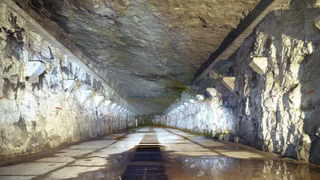 From a secret treasure trove below the memorial to Oliver Wendell Holmes in DC to a retrofitted quarry in Wales, our governments have gone to great lengths to protect precious objects from ruin—and a new trove of declassified documents shine light on a new, little-known project to do just that during the Cold War.
The artifacts of history's greatest wars are strewn everywhere around Europe, and fewer are more visible than the remains of concrete World War II bunkers. Jonathan Andrew has been photographing these sites since 2009.
Last week, we wrote about a project in London that sounds straight up apocalyptic: A massive underground farm inside a 60-year-old bunker, originally built to protect Londoners from Nazi bombs. Now, we have video—and it's every bit as spooky as you'd think.
You might be familiar with Pink Visual, a major porn player, because you've possibly masturbated to some of their work. If and when the world ends in 2012, they don't want that to stop. So let's build a bang bunker.

When explosives begin raining from the sky, it's generally recommended that one find a sturdy, preferably covered, area to wait. Our friends at Oobject.com have some great examples.
Across wartime Western Europe, defensive bunkers sprung up to uneasily counter the constant threat of the enemy. Some on land, some by sea, but now, all derelict. Photographer Jonathan Andrew toured several countries to capture these haunting, dilapidated relics.
This must take the record for the trippiest data-center build anywhere, ever: It's an old nuclear bunker 30 meters below central Stockholm, and its new conversion for one of Sweden's biggest ISPs has made it truly
007
-worthy. Check it: it has simulated daylight, greenhouses and waterfalls, there're German submarine…