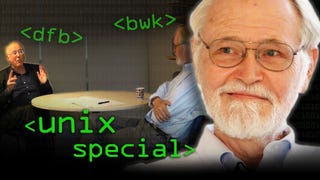 Professor Brian Kernighan is computing heavyweight: he worked at Bell Labs, helped develop Unix and was one of two authors of the C programming language. Here, he talks with one of the UK's foremost computer science professors, Professor David Brailsford. Time to geek out.
Aprender a programar puede abrirte muchísimas puertas laborales. Si has escogido una formación académica técnica, estarás ya en ello. Si no, tal vez te estés preguntando por dónde empezar. Escoger el lenguaje de programación correcto no es fácil y dependerá de muchas variables. Estos gráficos dan algunas claves para…
Lee Hsien Loong, primer ministro de Singapur, no es un político al uso. Es militar y matemático, licenciado por el Trinity College de la Universidad de Cambridge, uno de los centros más prestigiosos del mundo en matemáticas. Además, sabe programar. Y lo acaba de demostrar con su propio programa en C++... para resolver…
We heard the rumors over and over: Android apps are coming to Windows 10. It sounded like a good way to let Windows Phone and Desktop users fill the gaps in the Windows Store—but it isn't happening. Instead, Microsoft is making it ridiculously easy to port Android apps to the Windows Store. And everything else too:…
It wouldn't be surprising if Apple made as much money selling replacement charging cables as it did phones and tablets. Those white Lightning cables are easier to lose than socks on laundry day, but now there's an alternative that will actually remind you to pack yours up when you've unplugged your phone.

In less than a week, the world has lost two tech pioneers. Last week, we mourned the passing of Steve Jobs, and now we say goodbye to computer scientist Dennis Ritchie who also recently died.