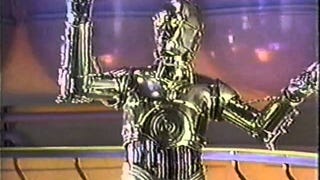 If there was a list of people (and robots) that should avoid rapping—and maybe there ought to be—C-3P0 would be sitting pretty far up towards the top. Fluent in six million forms of communication and not an ounce of flow.
As Out magazine shows us, there have been some faaaabulous robots over the years. Obviously the Nick Swardson-voiced Gay Robot—a bit from a failed Comedy Central pilot—takes the cake, but what about the the less obvious examples? The spangly Cylons from the original Battlestar Galactica? Effete C-3P0? Bitchy Hal9000?…
Today a new TV spot debuted in the UK showcasing C-3PO and R2-D2 going absolutely bonkers in a Currys/PC World department store. The droids encounter a rude vacuuming robot, and yes, that is Anthony Daniels doing Threepio's voice.
We just spotted these great, life-sized Lego models of Indiana Jones, C3PO and a Clone Wars Trooper at the annual Toy Fair. We asked how many Lego bricks it took to construct each one, but were told that it was "a big secret." We couldn't care less, they look amazing, and we desperately need some new office…
Star Wars may be an epic struggle between good and evil, but all that moral drama is just a vain attempt to hide all the love stories in the franchise that burned hotter than the sands of Tatooine. You've got brothers and sisters making out, robot on robot love, bestiality, bondage, phallic sabers, weird little…