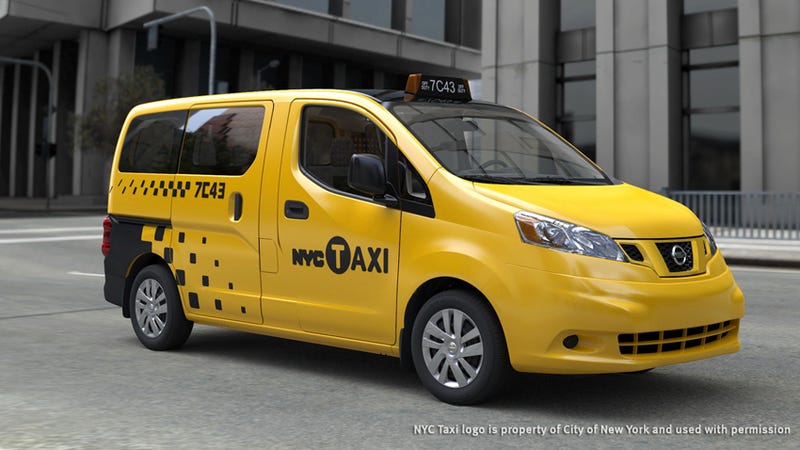 Against all odds, the Nissan NV-200 will rule the streets of New York. As of today, the vast majority of cab drivers must buy the so-called Taxi of Tomorrow when they retire their old yellow cabs.
If you use Uber, you've seen the map that comes up when you want a ride. The map shows little car graphics hovering adorably around your location and the wait time for a pickup. Once you request a ride, you can watch a little car creep closer to your destination as you wait. It's a marvel of technology! Except it's…
Just as Uber emerged as an alternative to public taxis, automated vehicles could represent the next wave of urban transportation. A new study shows how shared self-driving cars could not only improve city streets but also the cities themselves.
New York's fleet of iconic yellow taxis are still the city's reliable, non-surge priced transportation backbone. Its 13,500 medallion taxis make 170 million trips a year, every single one of them mapped in this beautiful new visualization from the folks at the MIT Senseable City Lab. The interactive map isn't just…
Occasionally you'll luck out and climb into a taxi cab with such amenities as free tissues, discarded newspapers, or all the tourist pamphlets you can carry. But if you find yourself in New Orleans, you might end up in one of the 250 vehicles in the Orleans Carriage Cab fleet that now feature soda-dispensing vending…

Cab drivers know their cities intimately, using shortcuts and side streets to bypass traffic jams and (hopefully) get you to your destination more quickly. Now Microsoft is hoping to tap into this talent and design better driving directions for online maps.
Why I take the subway: This is what NYC traffic congestion looks like, charted by the GPS units built into cabs. The real surprise is that average travel speeds remain a crushingly slow 7MPH, even when everybody's at work. [NYT]
Face it: New York's taxis are pretty low tech when you compare them to cabs from around the world. So to celebrate the taxi's 100th anniversary, the folks at the Design Trust for Public Space are heading up the Taxi 07 project, an exhibit at the New York International Auto Show that'll showcase what future cabbies…
Good news for anyone heading to Hong Kong (or anyone living there now). As part of a new ad campaign, Vodafone is fitting some of Hong Kong's cabs with free wireless Internet. The plan is to put a USB modem inside as many taxis as possible, so that anyone traveling with a laptop can connect and hook up to the…
Cab drivers in New York City are getting their panties in a twist over a proposed plan to install monitors in the back of cabs. The monitors would display commercials and other forms of entertainment, but what is upsetting the drivers is the fact that these displays also have GPS devices that track location when the…
Ericsson has been authorized to place mobile sensors in the trunks of 50 New York City cabs with the goal of tracking drop zones. Apparently the random driving patterns of cab drivers are effective for finding holes in the grid.