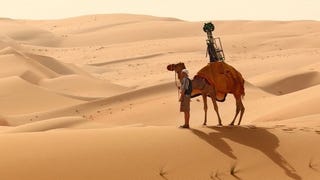 Google Street View has taken us to the ends of the world and back (in time). But now, its taking us where no Street View camera has taken us before—into the Arabian desert on the back of a 10-year-old camel named Raffia.
The mouth of a camel, like the mouth of a child, can be pretty unnerving to look upon. Countless fleshy fingerlings, tapered and tough, project from inside the creature's maw – but why?
Camels aren't typically associated with northern climates, but a recent discovery of 3.5 million-year-old fossils by Canadian paleontologist Natalia Rybczynski suggests that this is precisely where they came from. The finding was made on Nunavut's Ellesmere Island, the most northerly part of Canada, and an area that…
What are the pros and cons of using camel urine as a medicament? The question was recently tackled in the journal Dirasat – a peer-reviewed research journal published by the Deanship of Academic Research, University of Jordan.
What type of low-tech weapons are supporters of Egypt's President Hosni Mubarak using to attack the protestors in Cairo? Think rocks, camels, Molotov cocktails, space heaters and even a cavalry charge.
If they're not culling kangaroos, they're wanting to kill off farting camels, pigs and water buffalo—there's just no pleasing those Orrstrayans. The Australian environmental group views these methane gas-expelling creatures as harmful to the ozone layer.
In the far-off land of Qatar camel racing is all of the rage, but unlike similar horse racing in the states, the camel owners will do anything they can to lighten the load, including using children as young as 5 as jockeys. More than a decade later somebody decided that using children as jockeys just isn't right and…
As we all know, children robots are the best camel jockeys around. They're small, replaceable, and never complain for fear of beatings. Thankfully, the United Arab Emirates has discovered this and is now using robots instead of humans to race camels across the desert.