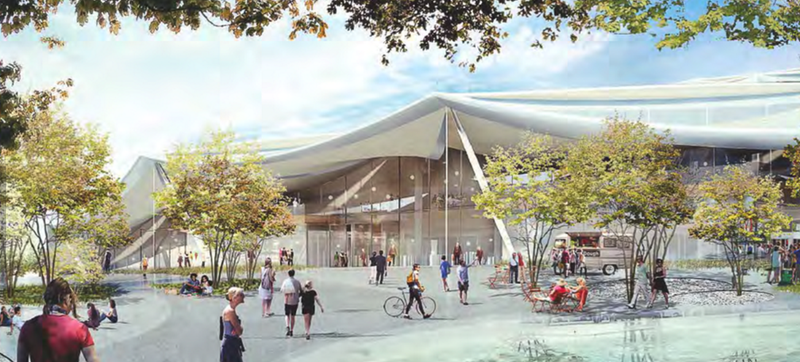 Google has been planning to build a new set of offices, just down the road from its existing HQ in Mountain View, for a while. Now, a new series of renders show what it might look like to spend time in.
Google's New York City office has something that every office in America needs: secret rooms hidden by swiveling bookshelves. If you're not in the know, you wouldn't know it existed. But if you do have Batman access at Google, you can pull the correct book and expose a whole 'nother world. Or something like that.
We already saw plenty of exterior images of Apple's new headquarters, which look like a giant spaceship or a spaceport. But these confidential interior images—obtained by 9to5mac's Élyse Betters—truly show the scale of this place. Look at the size of the glass walls!
This seems crazy but Steve Jobs supposedly stood before the Cupertino City Council on Tuesday and asked for permission to build a totally round building for Apple's 12,000 employees. It will be built on land Apple purchased from HP. "It's a little like a spaceship," he says while describing it. [Techcrunch]
The NY Times got a rare glimpse at Pixar's animation process and even better, a tour of Pixar's offices. It's filled with delicious nuggets from the most consistent (and probably best) movie studio of our time. Did you know Steve Jobs designed a building there? Or that they have a secret speakeasy room? Or enough…
Sergey and Larry's involvement with NASA seems to be getting ever deeper. Alongside the parking rights for the Google company jet at Moffat airfield, and using NASA data for Google, the Mountain View-based company is to build a brand new empire on 42.2 acres of land owned by the space agency at the Ames Research…