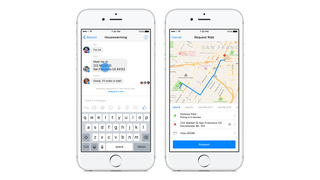 Facebook and Uber continue their unstoppable global takeovers with a new partnership, announced today. You can now call for an Uber ride from within the Facebook Messenger app.
Uber's famous for using aggressive tactics. Its latest stunt is aimed directly at New York City Mayor Bill De Blasio. The company added a tab to the app to illustrating what would happen if the mayor's new "Uber cap" bill passes.
There's one problem with many car and bike sharing programs: By the time you've decided where to go, you're already locked into a transportation mode. You're either waiting for a cab to pick you up, making your way to a kiosk of bikes, or unlocking a nearby ZipCar. What if you could tell an app what you needed to do…
Parking in most major cities – and San Francisco, in particular – sucks. More often then not, when the wife and I head into the city for a night out, we park somewhere cheap and Uber our way around. It's both idiotic and costly, but it beats circling for a space for 45 minutes and then walking 10 blocks. That's why…
Small, weird-looking smartcars are nothing new; there are plenty of them on the road, especially in cities where space is at a premium. But Toyota has launched something that makes great use of its zippy 3-wheeled i-Road vehicles: a new car-sharing service that integrates with a city's existing transit system.
Zipcar, the rent-by-the-hour car sharing service of choice for broke urban Millennials, has one hugely glaring and annoying flaw: after you check out a Zipcar, you have to put it back where you found it. Now they're about to unveil a new program that will fix that.
When I meet Josh Westerhold at the offices of Project 100, the Las Vegas urban mobility startup that's funded by the Downtown Project, we decide it would probably make sense to head out into downtown Vegas to tour their project area in person. From the other room, his co-worker has an even better idea: "Take the…
Vale, solo llevamos dos días del nuevo año, pero la operación que la compañía de alquiler de coches Avis acaba de cerrar tiene todo el sentido del mundo: comprar ZipCar, la firma para compartir coches, por 500 millones de dólares.