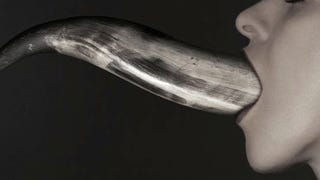 We've known for a while that the fourth season of American Horror Story would be set at least partially in the 1950s, and now we know the theme. Cue the sword-swallowers and the tattooed ladies, because AHS is going to the carnival.
The cursed year for cruise ships continues: early Thursday morning, authorities aboard the Carnival Spirit in Australia realized two passengers had fallen overboard. Over one day later, neither has been found.
Carnival has had a pretty crappy couple of months after fires and massive systems failures in two of its ships turned things into scenes from Lord of the Flies. So the cruise company has planned a $300 million upgrade for its 24-ship fleet to make sure it's prepared for the worst. Here are the highlights.
In the Beef Jerky crane game, there are three things you can win. One is a t-shirt. The second is beef jerky. And the third...the third is unparalleled satisfaction.
Two spies, one trained in the art of lying and the other in the art of reading people for signs of subterfuge, have been sent to steal alien technology from Amazonia, a planet ruled by man-enslaving lesbians. Our spies are emissaries from a male-dominated, interplanetary government ruled by ruthless artificial…
So it turns out that the huge HTC Magnum actually is, of course, a prank cooked up by the guys at Pocketpt in Portugal as a Carnival stunt. Built from an HTC X7500 and a boring old HP monitor, it seems it got a lot more attention on the intertubes than originally intended. [Pocketlint]
Those Jersey residents really love their crane game. First there was the iPhone Crane Game where you had to throw down $5 per try, and now there's the Wii crane game, where you can get the chance to pick yourself up one Nintendo console for $2. We're not sure how many Wiis have been won in this gigantic Wii crane…
Looking to relive the experience of that time your dad took you to the carnival when you were 13? Well, we can't help you find a bearded lady to make out with, but Zoltar the animatronic fortune teller can give you generic stabs at future events like the best of them.
Carnival Cruise Lines will be introducing complete cellphone service on their cruises throughout the world. The ships will use a high-bandwidth technology that is compatible with any cellphone and allow for calls to be made anywhere in the world. There is no need for additional software or hardware for the cellphones;…