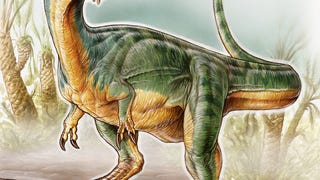 Meet Chilesaurus diegosuarezi, a newly described dinosaur discovered by a seven-year-old boy in Chile. The theropod was related to famous meat-eaters like T. rex, but researchers think it was a vegetarian. Stranger still: It possessed a mixture of anatomical features unlike anything researchers have seen before.

Like hummingbirds, Australian rainbow lorikeets eat pollen and nectar. In fact, they have a specialized tongue that allows them to do so. So imagine the surprise of bird experts after discovering of a population of lorikeets who have taken to eating meat.
Humans have always had a complicated relationship with other predators. Grizzly bears, crocodiles, great white sharks—these are among our planet's most awe-inspiring creatures. Still, we'd never want these deadly animals in our backyards. But new scientific evidence suggests that we need them far more than we realized.
Last week's cupcake-filled sausages put a damper on our appreciation of all things meat. But our mood has been considerably improved now that we've discovered these fantastic hand-made balloons that look exactly like cuts of meat. They've even redeemed sausages for us.