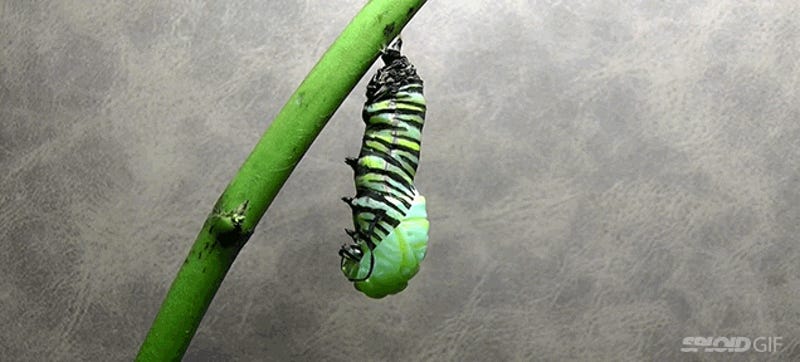 Here's the life cycle of a monarch butterfly. From the wild green creepy critter crawler caterpillar to the unassuming cocoon to the beautifully complex and intricate butterfly itself. We get to see the entire process and it's like a magic trick, enter one way and exit completely different. Nature is always the best…
Meet the tobacco hornworm, a caterpillar that regularly eats tobacco leaves loaded with nicotine. Research now shows this little bugger has a strange and unique defense against hungry spiders: It "puffs out" nicotine, creating a kind of toxic bad breath.
It's incredible, really. It features a central spire and an encircling picket-fence that's been reinforced by horizontal rails, and is strung together by a series of radially oriented guy wires. An impressive edifice at any scale, the structure measures less than 2 cm across. And here's the real kicker: nobody knows…
Robots are so commonplace now that we use them to entertain kids at amusement parks. But even though modern technology has given us artificial lifeforms that can walk, talk, and even fly, there's still something utterly fascinating about pre-electronic mechanical automatons like this Vers de Soie caterpillar dating…
The Oak Processionary Moth is a nasty little beast. It's native to Europe, but didn't show up in the United Kingdom until 2006, when a few eggs hitched a ride on oak trees transplanted to London. Since then, it's been causing environmental chaos. Now it's threatening to seriously screw up the Summer Olympics.