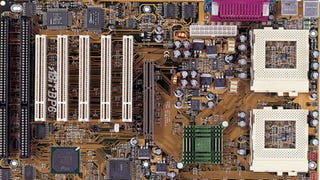 We all know that, generally speaking, buying the newest top-end part gets you the most performance. But in most cases, the premium you pay for that part covers a whole lot of other stuff as well that has no bearing on frame rates or video encoding times. We're talking about the added cost of covering research and…
At last, someone managed the most needed, most anxiously-awaited PC retrofit job there is: putting a PC inside a Nintendo Wii box. Looking into its guts and its back, the Wii PC not very powerful, but it is fully functional and comes with everything you need in a Windows XP box.
The computer runs Windows XP…
Need a cheap file server, Linux machine, or emailing machine? How about a refurbished 700MHz Celeron for $47.91. It's really bare-bones, with only 128MB of RAM, a 10GB hard drive, Windows 2000 (not installed), onboard Video and Audio, two PCI slots, one AGP slot, and four USB slots. Not bad for $47 though. – Jason Chen
Daewoo Lucoms apparently decided to get into the ultra-mobile PC (UMPC) game, shipping its handsomely-styled Solo M1 which has a 7-inch touchscreen, 1.3-megapixel video camera and a DMB TV tuner for those Asians fortunate enough to have access to such signals. It's powered by an Intel Celeron 900 processor.
Acer Aspire 17-inch laptops get an update in four iterations, where all have a 1440x900 screen and offer notebook shoppers a quartet of trim choices. The 9400 (pictured above) has an Intel Pentium M processor inside, while its more sophisticated brother, the 9410, and runs with an Intel Core Duo chip. Both have ho-hum…