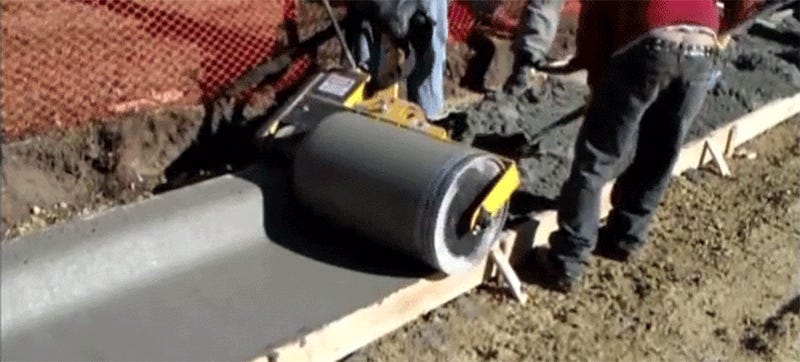 Ah. When life gives you a mess, just use this curb roller to smooth things out. It packs and flattens and smoothes any thing it meets. Just look at how kludges of cement transform into a perfectly shaped curb after the roller gets its roll on. It's like the world's strongest rolling pin but for cement and not baking.
As the world's cities expand at faster and faster speeds, so does its use of cement. One oft-quoted statistic shows that China alone used as much cement in the last three years as the US used in the last 100. Just one problem: Cement is responsible for pushing a hell of a lot of carbon dioxide into the world.
The first cement factory in Hungary has reached its sorry end. The monstrous industrial complex of Lábatlan was established by Balázs Konkoly-Thege on the right bank of river Danube in 1868, and in the very beginning, Roman cement was made here in a wood-fueled 16 chamber furnace. Today, the factory is a lovely…
For the most part, we humans are better at things than we were thousands of years ago. But there are some things the ancients had down pat. Roman concrete, for instance, is just way better than anything we can whip up today. Finally, after some 2,000 years, modern-day scientists have figured it out. And it's a secret…
Alchemy, at 2,000 degrees Celsius. A new study from the Argonne National Laboratory reports that a group of scientists from Japan, Finland, America, and Germany have used lasers to turn liquid cement into a glassy, liquid metal.
Looking to bring some plant life into your room? Or trying to figure out a holiday gift that's a little more original than a lame-o gift certificate? All you need is some tools, some cement, a succulent and this guide.