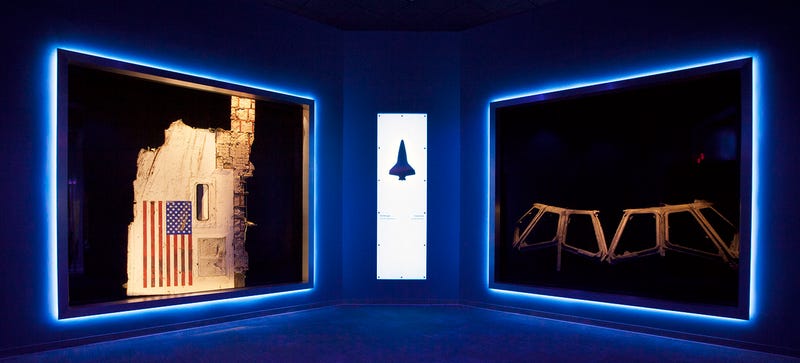 One day before the unfortunate SpaceX launch failure—which proved once again that space is hard—a new, deeply saddening but inspiring exhibition was opened at the Kennedy Space Center Visitor Complex in Florida.

YouTuber lunarmodule 5 is back with another NASA compilation video. This time, it's a four-screen tribute to the Space Shuttle, showing every launch of the Shuttle's 135 missions. It'll make your spine tingle.
The "massive malfunction" that killed seven astronauts aboard the Space Shuttle Challenger in 1986 also forever changed NASA, an agency that seemed infallible. What breakdown in the decision-making process led to the shuttle lifting off? The organizational structure of NASA itself played a bigger role than you might…
In memory of the men and women who lost their lives in the quest for space exploration. NASA Administrator Charles Bolden participates in a wreath laying ceremony as part of NASA's Day of Remembrance, Friday, Jan. 31, 2014, at Arlington National Cemetery.
In 1984, NASA physicist Ronald E. McNair became the second African-American man to fly in space. Tragically, McNair died just two years later in the Challenger disaster. With the help of StoryCorps, McNair's brother Carl pays tribute to McNair with this uplifting story of a young Ronald McNair trying to borrow books…
In a little over two weeks, skydiving specialist Michel Fournier plans to break the world record for the highest skydive ever attempted. If all goes well, he will jump from a balloon at an altitude of around 131,000 feet, or 25 miles above Saskatchewan, Canada. At around 115,000 feet his body will blow through the…