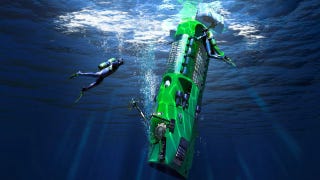 Last year, James Cameron became the third person in history to venture to the deepest point on Earth, the Mariana Trench's Challenger Deep. He was also the first person to ever make the trip alone – a trip he made in a badass submersible, fittingly named the DEEPSEA CHALLENGER. Now, one year after his historic dive, …
The folks over at Deep Sea News recently invited a marine biologist, writing under the pen name "Dour Marine Biologist," to provide some thought-provoking counter-observations to the media hype surrounding James Cameron's dive into Challenger Deep, the deepest point on Earth.
Over the weekend, James Cameron successfully made it to the the bottom of the Mariana Trench—the deepest point on Earth. Bad. Ass.
Though you might not realize it, the sea bed—even the area surrounding the Mariana Trench—is littered with submarine communication cables. They're there to string together…
The Atlantic has the story on X Prize competition to reach the Challenger Deep, the deepest known point in the world at 35,797 feet. Three teams are racing to get the $10 million award.