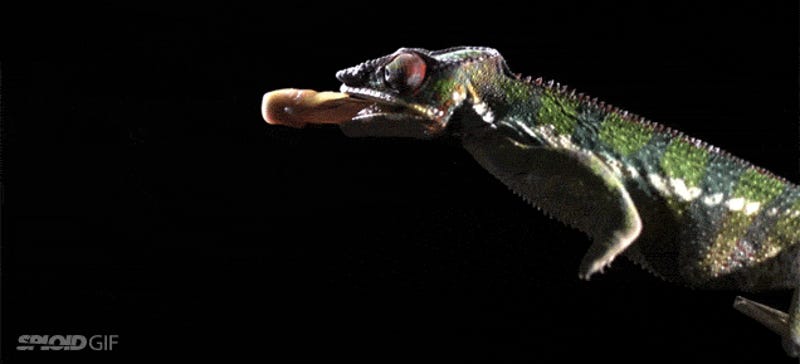 A chameleon's tongue is nearly two times the length of its body and it can shoot out that slimy sticky thing at 41 g, roughly four times the maximum acceleration of a fighter jet, with deadly quick accuracy: its tongue can reach its prey in 0.07 seconds. Basically, it's an insane, superpower-like weapon to have.
It's been a big week for chameleons. On Tuesday, scientists announced they'd worked out the secret to the cross-eyed lizard's color changing skin. A day later came the announcement that we'd replicated the skin artificially.
Godzilla is known for his atomic breath, a weaponized nuclear exhalation that forms deep inside the beast's belly. There aren't any animals who turn their mouths into radioactive heat rays, but there are lots who throw, spit, project, or heave things from their mouths. Here are five amazing real life mouth weapons.
Oculis Labs has two products, Chameleon and PrivateEye, that protect your screen from over-the-shoulder peepers in two incredibly novel ways. The catch that makes this product unique is that it uses eye tracking, something we haven't heard much of yet.
Nikita Buyanov was commissioned to design a series of conceptual, female-oriented laptops for HP/Intel, and the Chameleon kind of rocked our world. But we still consider ourselves men.
Soon all soccer moms will be James Bonds, changing the color of their car with the flip of a switch. That's because Nissan is developing a paramagnetic iron oxide paint polymer. Using an electrical charge, the arrangement of iron oxide crystals can be tweaked, adjusting the car's color. (It just so happens that…
Taking a nosedive into absurdity and back, we bring you the USB-powered eye-rolling chameleon, and it's not even a storage device like that mutt humping the USB port that robbed us all of our precious dignity earlier this week. No sir, no such prurient mirth here. This is just a plug-in USB ornament that rolls its…