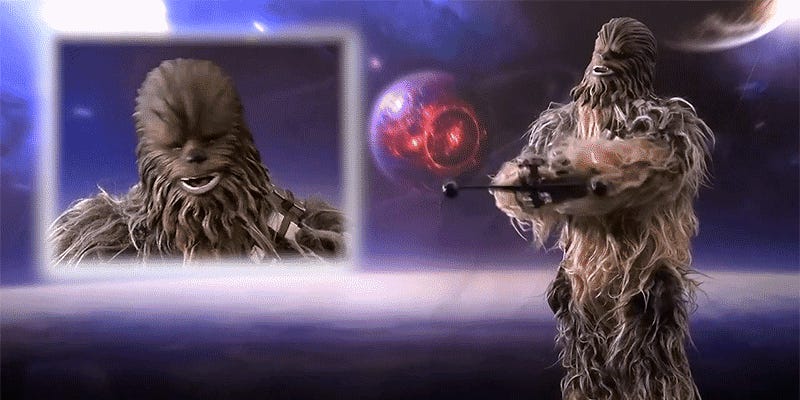 As one of the most popular characters in the Star Wars universe, there is no shortage of Chewbacca figures to be found. But Chewbacca figures that include his luxurious coat of Wookiee fur? Thinkway Toys might be the first with its 17-inch tall Chewie figure that's also completely animated.
With a new Star Wars movie on the horizon, the next few months are going to be an overwhelming onslaught of merchandising. But thankfully we've already hit rock bottom now that you can buy fur-lined Chewbacca Crocs—and not just in kid sizes.
The older you get, the less excited you are to celebrate another birthday. But that all just changed with these new Star Wars helium balloons from Amscan. If you thought Stormtroopers were easy to kill before, now they can be taken out with just safety pins.
Sure, to us, Chewie, Groot and Hodor might be communicating in nonsensical languages, but what if these characters could actually understand each other? Turns out, they'd head to Mos Eisley for a supportive get-together according to Brotherhood Workshop's latest Lego short.
It doesn't come with Lucasfilm's or Disney's blessing, but if you're a rabid Star Wars fan with a particular penchant for Chewbacca, Geoff McCleary over at Weird Boards will happily build you this one-of-a-kind Wookiee longboard. It's 44 inches long with a hand-painted bandolier and faux fur completing the look. It's…
Given he only ever wore a sash, I'm assuming Chewbacca's coat of fur keeps him plenty warm. So it stands to reason that a hoodie made from Wookiee fur would do the same, even if you don't live on Hoth.
What do Marlon Brando, Sophia Loren, and Audrey Hepburn have in common, besides being beautiful and mostly-dead? They apparently loved their vinyl records, as captured in this wonderfully nostalgic gallery. Also, there's a photo of Chewbacca sexy-relaxing (with records!).
Dragoncon, the one weekend every year nerd wet dreams come true through the magic of paper, paint and fabric. But not deodorant. Definitely not deodorant. See more—including a really incredible Terminator, complete with John Connor—at io9: [io9]
Comic Images just released a new line of Star Wars plush dolls, but with really big and ugly noggins. Standing proud at 7 inches, the considerably sized plushies are a cheap $12.99, and so far Yoda and Vader are ready to ship—perfect for those of you who want to unwrap them right away and get down to some…

Like the Lucas-approved Darth Vader USB Drives from Mimoco, this Chewbacca USB thumbdrive is limited to a 2500 run, and is available in 1GB, 2GB, and 4GB sizes. No bowcaster?! Awwww... –Brian Lam