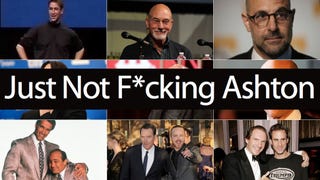 After a solid week of coming to terms with the fact that Steve Jobs is Batman, we've found ourselves in a Job-less world once more. Now that Christian Bale's thrown in the tiny circular glasses, we ask you, dear readers, who's your Jobsian ideal?
Christian Bale will not be playing Steve Jobs in the upcoming movie about the Apple co-founder, Hollywood Reporter reports.
Christian Bale will slip into a mock turtleneck to play Steve Jobs in an upcoming film about the Apple co-founder. (The one that has nothing to do with Ashton Kutcher.)
Still bummed about Ashton Kutcher's I-kinda-look-like-the-guy big screen portrayal of Steve Jobs? Well hang tight, as Hollywood's cinematic Bat-Signal for a Real Actor has been answered. Christian Bale is being rumored to take on the role in the upcoming, Aaron Sorkin-penned, project.
From Terminator Salvation, John Connor leads The Resistance from his submarine—all while keeping bloody but cozy in his well-tailored aviator jacket (J. Crew, $550). But...what's that red glow all about?
So you've seen John Connor and you've met Marcus Wright, but where are the stills of the robots? Lucky for us, one intrepid Gizmodo reader searched through the Hi-res trailer to find us a good picture of what humanity's up against. Check out the color corrected version! Is that bot wearing... cargo pants? […
This is the first look at Marcus Wright (Sam Worthington), the major wild card character in the upcoming fourth installment in the Terminator series. Rumors abound about Marcus' background - and humanness - but most of them are too spoilerific to post here, so let's just go with what we know and see: he's a major…
We showed you the teaser trailer for Terminator Salvation on Wednesday, but like most teasers for these types of movies, you get a lot of flash but not a lot of robot. However, a new still image was released today that gives you a little better taste of the action-like Christian Bale pinning a Terminator robot with a…
One of the coolest things about the Batpod from the upcoming Dark Knight movie is the fact that it actually works. Previously seen being straddled by Meredith Viera on The Today Show, the decked out motorcycle burned rubber at the slightly more dignified British Formula One Grand Prix this weekend. Who else would…