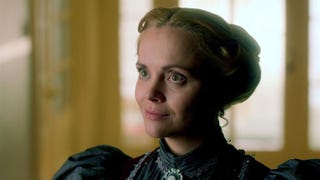 You gotta give The Lizzie Borden Chronicles credit; the only thing predictable about this show is how unpredictable it is (and, ok, the fact that Lizzie will off at least one other character per episode). In episode seven, "The Sisters Grimke," the Borden sisters flee Fall River and Lizzie adopts a more fun-loving…
From episode six's title, "The Fugitive Kind," we have a good idea that Pinkerton detective turned (wrongfully) convicted murderer Siringo is not going to end up at the gallows. But his legal troubles get him out of Lizzie's hair long enough for her to turn her attentions to other matters, like sabotaging her sister's…
Romance is in the air in Fall River, but so are gushing sprays of blood. Episode five, "Cold Storage," is the series' halfway point, and Lizzie is now a full-fledged serial killer. Sure, she's been coldly taking down anyone who dares get in her way for weeks now. But in this ep, she ups her psycho game considerably.
A lot of people kick the bucket on this week's Lizzie Borden Chronicles episode, "Welcome to Maplecroft," and shockingly — shockingly! — not all of them are done in by the divine Miss B. Our pint-sized psychopath does get the most creative kill, however, in yet another ep that mixes gore with arch, arch dialogue.
Lifetime's Lizzie Borden Chronicles got off to a strong start last week, and this week's episode, "Patron of the Arts" — full of smirky stare-downs, cheeky exchanges, and plenty of gruesome special effects — suggests there's much more knowingly soapy, murderous mayhem to come. Yay!
Lizzie did it. That was heavily implied in Lizzie Borden Took An Axe, the Lifetime movie that spawned The Lizzie Borden Chronicles, which keeps that theory alive and embellishes the hell out of it. Like the film, the series stars a clearly-having-a-ball Christina Ricci; it starts after the accused murderer's acquittal.
Consuming two kinds of potatoes in the presence of loved ones calls for a holiday-appropriate movie. You could load up the heartwarming Planes, Trains and Automobiles, or dive right into Christmas season with It's a Wonderful Life. Well, here's a film about Thanksgiving and family you should really not gather the…
"Prepare to trip balls" says sister site Jalopnik about Speed Racer, the Wachowski Brothers movie that comes out next year, and they're not wrong. Judging by the trailer, we're going to be going on an acid-colored trip on May 9, 2008—and the best thing is that Christina Ricci is coming along for the ride. Find out for…