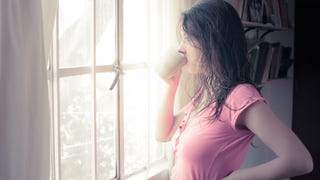 A DNA analysis of nearly 90,000 23andme customers suggests our preference for early mornings may be rooted in our genes. The study also suggests that night owls are at greater risk of depression and other health issues. But those findings come with a couple of caveats.
Right around this time every year, the world starts to make sense. It gets darker earlier and I get tired earlier, which means I get a better night of sleep. It turns out that I'm not just imagining things. When we go to bed is still determined by that impending darkness, even if our time zone tells us something…
Now I know why I'm really here: I'm helping the other Gizmodo writers prevent heart disease, bone fractures, cancer, diabetes and a completely wonked up metabolism by working the night shift.


Who needs that honking alarm clock when you have the Light Sleeper pillow and duvet, a design concept for bedding with electroluminescent threads embedded into it? Designers at loop.PH note that exposure to certain bright lights makes you feel better, especially in the wintertime. Problem is, your body is only…