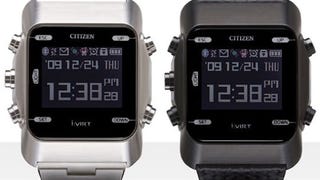 The AIBATO M Bluetooth watch from Citizen has a close relationship with your cellphone. It can alert you to calls and display caller information, emails and news tickers. It can even remotely operate a camera.
Citizen has taken the futristic route with the ITX21-5014 watch from their Independent line. Behind the machine-like watch hands is a green LCD, turned 90 degrees to the left, that displays the digital date, time, alarms, chronographs and timers. The watch is finished off by a checkered band and engraving along the…
Until now, if you wanted a Bluetooth watch that could show you your cellphone caller ID info, usually you had to wear a cheap plastic monstrosity on your wrist. But Citizen has somewhat alleviated that problem, releasing i:Virt, a variety of five Bluetooth-compatible watches that don't look half bad. With a product…
There's nothing to stop Japan's infamous earthquakes, but there are better ways to get ready for them. Citizen is developing the Seismic watch to take advantage of the country's "Earthquake Early Warning" radio service. It will pick up the radio signal as much as 10 seconds faster than the cellular text-message…
Citizen has dabbled in Bluetooth watches before, rolling out the VIRT W700 last June that connects to your Bluetooth-enabled cell phone and displays caller ID and vibrates when a call arrives. Now the company has updated its design, improving that ominous black look of its predecessor to this more "casual" appearance.
The VIRT from Citizen is the first Bluetooth watch in the whole entire world. This limited edition monstrosity, the VIRT W700 connects to your phone and displays caller IDs and vibrates when you get a call. This presumably allows you to keep your phone in a chest at the bottom of the sea and, when someone you want to…


There are two ways of looking at fat in America: either we are too obsessed with it, or not nearly obsessed enough. This lovely HM7000 scale from Citizen fits in the latter category. It not only measures fat, but the fat levels of your internal organs, basal metabolic rate, inner body age (say what?), amount of…
Watch company Citizen announced the development of an e-paper-like technology for use as a clock. "Yawn", I hear you say — but wait, Citizen's e-paper is really BIG. Measuring 4.2 feet x 1.7 feet, Citizen's giant, bendable timepiece can reportedly run for a whole year on two regular button batteries. That's all very…