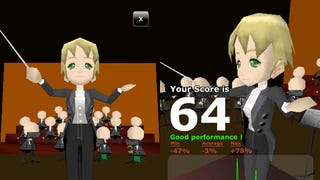 Classical music may isn't to everyone's taste, but who hasn't waved their hands about like a conductor before? iPhone app TikTakt lets you do that, but by shaking the iPod to control music from the likes of Mozart and Beethoven.
It's not impossible to browse and discover good classical music online—but it's very, very difficult. The iTunes selection is limited, and the sound quality of downloaded music isn't up to Tchaikovsky. Sony aims to fix that with Ariama, a music store devoted the classics.
The LA Philharmonic released an iPhone app version of its online Guitar-Hero-esque "Bravo Gustavo" game, for you ardent Gustavo Dudamel fanatics. It's really just a "wave your iPhone around like a baton" game, but it's free—and cultured. [BBG]
Whoever said recorded music doesn't have the same intensity as a live performance should meet Lead Sound, the Japanese company behind the Sympho Canvas virtual orchestra. Forty-six speakers are arrayed in a concert hall similar to the
placement of instruments
in a real orchestra and each speaker "plays" a discrete…
A mattress company in Tel Aviv decided to fill up a concert hall with 144 beds complete with pillows and blankets, giving music lovers the most comfortable way possible to listen to a classical music concert.