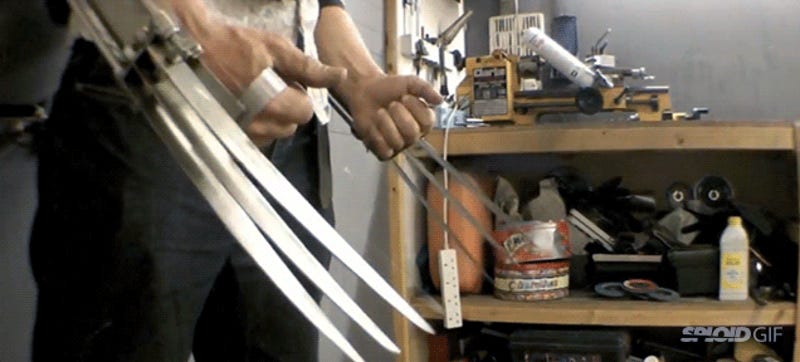 Holy crap, Colin Furze made the best Wolverine claws replicas ever. These 12-inch steel blades are fully automatic: they can deploy or retract with the push of a button. I've seen many tries at making these, but nothing as amazing as this these ones. And for sure, you can use these as real—very—mortal weapons.
I think it's safe to say that we all want Wolverine claws. Sure, working out some of the logistics would be tough at first, but come on. You would feel invincible! And you could open plastic packaging really easily. To this end, Master James made a set of great looking claws at a machine shop. But they weren't awesome…
Forget about puny robots, this is why Wiimote hacking was invented: To control two giant robotic claws, each of them weighing 15 tonnes and pushing 200 bars, which can separate your torso from your legs in a snap. [Entity Crisis]
If you ever find yourself in central Africa, here's a piece of advice: don't mess with the frogs. As Ed Yong over at "Not Exactly Rocket Science" warns us, several species of them come equipped with a set of bony Wolverine-like claws that punch through their skin when threatened.
Annalee is visiting with the costumed fans roaming the halls of WonderCon, asking them one crucial question: How they would strip out of their costumes if they had to get naked really, really fast? You know, for various reasons, like if they were on fire, wanted to flash someone, or were starring on an episode of …
Wolverine looks much the same as always, judging from the first official pic from the Wolverine movie... except that the killer mutant's claws are way longer. Those things look 18 inches long, or more. Could the X-Men spinoff movie be overcompensating for something? Also, star Hugh Jackman dropped some more hints…
The problem with robot claws and hands is that they really don't know how hard to grip an object unless they're either pre-programmed or they test out the hardness themselves. The latter isn't a great idea if the object is, say, your arm, so Intel's invented a process to scan the object beforehand with sensors to…
So you want to look like Hugh Jackman? A guy named Nate sure did, and he documented his entire process so nerds around the world can follow in his footsteps.