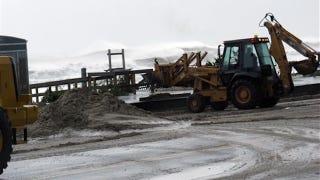 Thankfully, Hurricane Irene wasn't as bad as it could have been in some places. But there were still plenty of people affected by the Hurricane in significant ways. What do they do next? Well, they clean up. Here are seven tools to help.
Japan is slowly rebuilding after a devastating tsunami destroyed parts of the country earlier this year. A series of before and after pictures show how far Japan has come and how far it still has to go to rebuild its shattered country. [Denver Post]

Fixing This | One year on, we take a look at the technologies used to combat the worst oil spill in US history
A commission appointed by the US Department of Energy is studying different options for dealing with spent fuel from nuclear power plants. New Scientist weighs the pros and cons of each.
If you needed something to stoke your outrage at BP's handling of the oil disaster, there's this: Clean-up workers are getting sick from exposure to oil and dispersants and BP is reportedly threatening to fire them if they wear respirators.
Designer Ji-hoon Kim has come up with an ingenuous idea for cleaning up oil spills. Using various features such as boom control modules, solar panels, oil protection boom, communication modules, boom connectors, and propulsion modules the OSP robots work together to surround an oil spill site with an inflatable…
Is there a worse combination than being cripplingly lazy and a total germophobe? You live in fear of situations like when you drop your sandwich on the floor, don't want to eat it, but just can't handle the thought of going through the effort of making another one. My God, your life is a constant struggle.