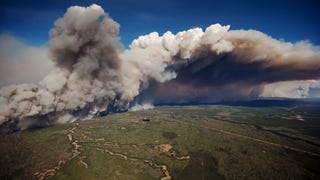 Last week, after raging for two months over an area the size of Delaware, the Fort McMurray fire was finally declared "under control." This was the costliest fire in Canadian history, forcing the relocation of 90,000 people—the largest evacuation in Alberta's history—and over $2.9 billion in losses. Although the fire…
Six British warships stationed in the Persian Gulf are breaking down because the water is too hot. This week, members of the British Navy testified to the UK's Defence Committee that their Type 45 destroyers keep losing power because of high ocean temperatures. When the ships' turbines get overheated, they can't…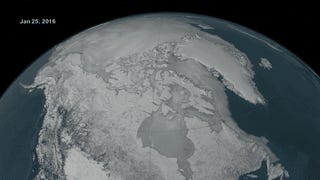 Another day, another scientific analysis revealing our unstoppable impact on planet Earth. Arctic sea ice coverage peaked at 5.607 million square miles this year, a wintertime low since our satellites began monitoring sea ice extent in 1979.

The Earth's climate has always changed. All species eventually become extinct. But a new study has brought into sharp relief the fact that humans have, in the context of geological timescales, produced near instantaneous planetary-scale disruption. We are sowing the seeds of havoc on the Earth, it suggests, and the…
University of Bristol climate scientist Dan Lunt, writing under the name Radagast the Brown, released a paper today where he used powerful supercomputers to model the climate of Middle Earth. So of course he had to release it in Dwarvish, Elvish and English. He made some fascinating scientific observations, too.
In Colorado, rainfall characterized by the National Weather Service as "biblical" has left thousands homeless, hundreds missing and at least eight people dead. Among the hardest-hit cities has been Boulder, which last week catapulted from a dry spell into its wettest year on record in the span of just five days.