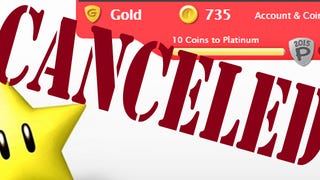 Nintendo acaba de anunciar el cierre de su programa de fidelización Club Nintendo, una página que permitía a los usuarios coleccionar monedas o estrellas para intercambiarlas por juegos y consolas en oferta. La compañía lo cerrará a nivel mundial, aunque planea lanzar pronto un nuevo programa de fidelización.
Nintendo acaba de anunciar que han hackeado Club Nintendo en Japón, su página web de ofertas y fidelización. El comunicado (en japonés) asegura que la compañía había detectado un incremento importante en errores de acceso a la web. Esto le llevó a investigar la situación y descubrir el ataque. La firma japonesa ha…
The U.S. version of Nintendo's reward program, Club Nintendo, never seems to have quite the same caliber of awesome schwag as the original Japanese version. Items like the Wiimote TV remote that was never available here, and now this pixelated 8-bit Super Mario throw cushion.
We've long been jealous of all the cute (and often functional) Nintendo swag that Club Nintendo members get overseas. Now the rewards club has launched in the US.
America will soon join Europe, Japan and some other lucky folks and have access to the elite Club Nintendo...club. Sure, it's a Nintendo marketing ploy to get users to register products and fill out surveys, but Club Nintendo is also the only outlet to buy the most sacred, extra limited edition Nintendo gear. We'll…
This silver metallic DS (we know it looks kinda gold in this picture) is one of just 3,000 Premium DS Lites being given away to lucky Club Nintendo members in Japan. 1,000 Premium Silver, 1,000 Premium Black, and 1,000 Premium Rose systems are all winnable by any club member who can provide serial numbers from two DS…
Nintendo's just started shipping out these SNES controllers to their Club Nintendo members in Japan, and great googly moogly are these fantastic. Not only is it a similar greyish color, but the X Y B A face buttons are exactly the same color as before! What better way to play SNES games on the Wii emulator than with…