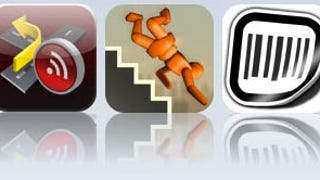 In this week's tentatively materialistic app roundup: Deals, scrutinized! Barcodes, scanned! Movies, thriftily rented! Magazines, digitized! Pac-Man, terrifyingly adapted to the road! The iPhone's camera, made less terrible! Turn-by-turn, discounted! Home screens, organized! And more...
ALK's CoPilot Live North America navi app just got a big update: Text-to-speech for reading road names, monthly MapSure user-corrected map updates, an improved "walking" mode, improved GPS performance and Contacts integration and above all, a new iPhone keyboard, to replace the sorry-ass homemade keyboard that was in…
When I published the turn-by-turn navigation app battlemodo, many readers asked me to evaluate some other popular choices. Because everything I do, I do for you, here are CoPilot, GoKivo and Sygic, a.k.a. the best of the rest:
Own a yacht but too busy to go steer it? Check out this Minn Kota Wireless CoPilot, which lets you wirelessly control your boat so you're free to do whatever you want.
Last week we launched a contest to give away a CoPilot Live PocketPC Device. After weeding through the entries—all of which were very impressive—we have a winner. Max S has won the CoPilot Live. He has a 2006 Mustang GT that is tricked out with gadgets all over the place. Hit the jump for his complete, and impressive…
Hot diggity damn! Some of you folks have more gadgets than us, and we own gadgets for a living. If you recall, we are giving away the CoPilot Live for Pocket PC. This device gives your Pocket PC enabled gadget a little bit of GPS goodness. The entries came flowing in and we are more than impressed with how much crap…
Yeah, it's been a while since our last contest, so sue us. Now we are giving away the CoPilot live. This accessory can turn any Pocket PC device into a GPS device. This is perfect for that summer road trip.