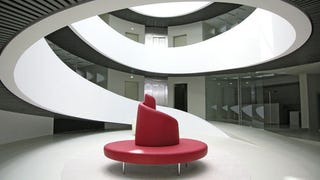 Switzerland gets all the cool offices. This particular one's dubbed "Cocoon" and acts as headquarters for an architecture firm. I prefer to imagine it as home to a super heroine who zoom-zoom-zips down that spiral and saves the day.
Cocoon is a house shaped like a zeppelin in Australia. It sits propped up on the edge of a steep drop off, as if it's tempting people to make Hindenburg jokes. I'll resist the urge. [Designer Choice via Inhabitat]
Red Bull has teamed up with Canadian design company Cocoon to develop a functional DJ table that represents "Red Bull's sponsorship of an actual nightlife experience." The table features a backlit logo panel, ventilation for laptops and slots for vinyl records and large CD booklets. As you will see in the image after…
Tao Ma is at it again, cranking out another great phone concept. The new design, the LED Cellphone, incorporates hundreds of LEDs, all of which are used to create the cellphone's striking UI. Check out the gallery below to see a cellphone your plastic white MacBook would fall head over heels for.
The Oi sofa concept was launched in New York last year, but it's taken almost a year and a half to make it available. Made out of L- and bar-shaped components, you can make loads of different-shaped sofas with it, including one with a neat side table add-on. It packs up/down into a 30-inch cube so shipping and storage…
Industrial designer John Moriarty has come up with the Cocoon, a portable hanging emergency shelter that you sling from a tree and sit in, should you get into difficulties in the great outdoors. It'll keep you warm and dry, not to mention turn you into a laughing-stock when the park ranger eventually finds you,…
Swedish gadget blog Fosfor got their hands on the svelte O2 Cocoon phone, and were gracious enough to produce an unboxing gallery. Not only is the phone simple and elegant, but so is its packaging. We're big fans of this newcomer, from its clean lines to the incorporation of a hidden LED display. Hopefully this will…
Yes, it's no iPhone and it's British, but the O2 Cocoon's has a blue LED screen that shines straight through its retro-'70s white clamshell design. It can display time, caller or track information, while simultaneously looking awesome. Best of all, it can transform: It comes with a dock that converts it into a bedside…