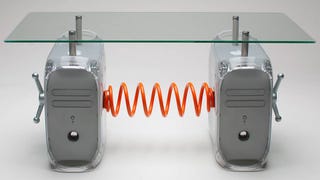 At one time in their lives these G4 towers were Apple's flagship workstations—possibly cutting hundreds of hours of footage, or editing thousands of photos. But today they're barely useful as paperweights, and probably best suited as a pair of stylish supports for this Crunching Numbers coffee table.
Don't get us wrong. We're completely enamored with Duffy London's new glass-topped coffee table that looks like it's being supported by a cluster of helium balloons. We're just not sure calling it the UP was the best idea. That mouse can be very litigious!
Even though the cassette tape is long gone from music store shelves, there's still enough nostalgia for the old medium that it may never die. From mixtape websites that let you share a handful of songs, to this utterly fantastic giant wooden cassette coffee table.
Not only is this the perfect living room accessory for putting your feet up while watching Shark Week, but both of those tooth-filled gaping jaws on this shark-themed coffee table look like they'd serve as perfect bottle openers.
Tiny apartments are miserable for a lot of reasons, but the most frustrating is when you can't make the most of your space without a clutter of furniture everywhere. Consider my coffee table problem: It doesn't take up too much space, but if there's more than one person hanging out, it's too small. The REK coffee…
You can see their inspiration for this table monitor, can't you? I do prefer Hyundai's stand to the box that Microsoft used on its Surface, though. And there's no denying what they were thinking of when designing the touch-surface, either.
If there was a contest for the nerdiest piece of furniture ever made, my money would be on this Periodic coffee table. It has everything a science fanatic could ask for, including the actual elements (even the toxic ones) encased in a thick layer of resin to ensure safety. As a whole, the table is actually quite…