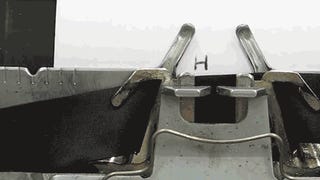 Craig Rozynski is an Australian designer who took upon himself to dignify the most ridiculed and beleaguered typeface in the world: Comic Sans. He turned the horrible typeface into an actually attractive typeface: Comic Neue. It's a miracle.
Officials at the Vatican were faced with a tough question when the Pope announced his retirement: what do you get God's Rottweiler as a leaving present?
Comic Sans is so universally reviled on the Internet that it's become hilarious when people actually try to use it. I wish I could be like those people who can look at Comic Sans and just see it as a happy font. I wish I could see the entire world in Comic Sans and love it. I wish every company's logo was in Comic…
Chocolat, a text editor for Mac, offers its users a free trial before asking users to buy its app. After the free trial is over, you can still use the app but... it'll display everything in Comic Sans. You win Chocolat. [Chocolat via @jakemarsh via Stellar]
Oh, Comic Sans. You're so approachable, so childlike, so human and... so disgustingly awful. As an eye gouge for many, the favoritest font of horrible rich people and vision vomit for the rest of us, Comic Sans should die 2136 times and then be wiped from our memories. OR SHOULD IT!? The Comic Sans Project hilariously…
Iran-Contra. The Bay of Pigs. The Battle of Mogadishu. All of these failures and black eyes upon American military history—none of them compare to this monstrosity, this abomination. This war crime. A briefing composed entirely in Comic Sans.
Very important: This advice/warning extends to any business and individual in the world, not only Fortune 500 companies: Don't use Comic Sans! Or Papyrus. Thank you very much. You can keep going on with your lives now. [Thanks Dave!]