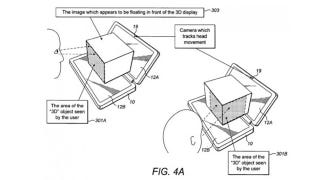 When in doubt, go 3D. Hey, it's working so well for everyone else, so why shouldn't Nokia have a stab too? A patent has arisen showing a Nintendo 3DS-style dual-screen phone with both 2D and (glassesless) 3D screens. Dual-cameras would shoot 3D content similar to LG's G-Slate/Optimus Pad and Optimus 3D/Thrill 4G…
Sure the Star Radio Communicator iPhone app looks kinda like that other communicator—you know, retro-futuristic design, flip door, 3 button layout—but last time I checked, Captain K's communicator absolutely did not make calls on Earth's phone system.
Interstellar space flight may have been
poo-poo'd on by astrophysicists
this week, but that doesn't mean we can't have a little pseudo space-faring fun with this first-of-its-kind RC Star Trek Enterprise. Due to arrive in May 2009, the $80 foam flyer is controlled via a vintage Star Trek touchscreen communicator…
This "life-size" Star Trek Communicator is a dream for every budding Kirk out there, sounding like the real thing when you flip it open, and with nine different voice phrases from the TV series built in. So okay, you can't actually contact anyone with it, but who needs that when you can pretend with "Spock here,…
The Nokia E90 Communicator has come out of the blurry shadows and into the sharp spotlight, showing off its 3.2 megapixel camera, Edge, WiFi and HDSPA goodness on two screens, one inside and the other out. That outside screen is a conventional 240x320 while inside it's packing an expansive 800x352 screen that can show…
Good thing DEMO is so F'n boring, I can still post.
Polycom cut its teeth on conferencing hardware, and now it's teamed up with the oh-so-free Skype VoIP service for hands-free full duplex speakerphonage via a USB connection. There are two microphones strategically placed inside the unit, letting multiple people join in on the conversation.