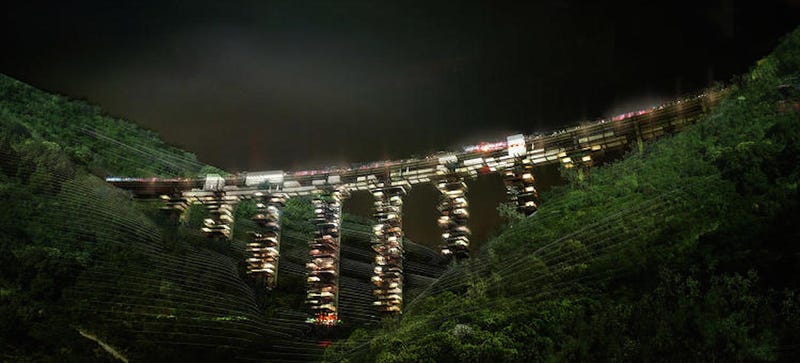 Southern Italy is dotted with hulking aqueducts that went out of service years ago. In an attempt to find a new use for the structures in lieu of tearing it down, the government held a competition. One of the winning designs will blow your mind.
What the first thing you think of when you hear the word "drone?" It might be killing machines. Or reconnaissance quadcopters. Or maybe a honey bee. But for a countless number of people in Africa, it could be a flying packmule with life-saving cargo.
In celebration of National Engineers Week, six teams of engineers from Lockheed Martin devised duct taping designs that they thought could hold a human being on a wall for the longest amount of time. Then they ran this crazy contest.
One of four shortlisted designs shortlisted for a new arts center in Arnhem, the Netherlands, this twisted cube by Bjarke Ingels Group curved upward at each midpoint to create public park space underneath its eves. Let's just hope those mirrored louvres don't light any fires. [Rijnboog]
The championship match of the 2010 FIRST Robot Competition is starting soon. Many teams have fallen and many robots have fallen apart. But now it's just the best student-made bots of the lot, battling for all the glory. Watch inside!
Yesterday, Netflix announced that they're pulling the plug on the sequel to their supercool Netflix Prize in which teams competed to improve the company's recommendation algorithm for a million dollar reward. Privacy: can't live with it, can't live without it.
How to get people using Office for Mac, after admitting only four people "love it"? I know! Paint a MacBook with Office for Mac colors, load it with a copy of Office 2008, and give it away on Twitter!