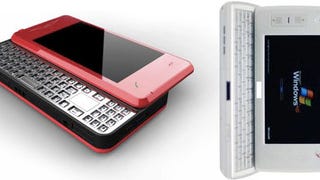 New device categories almost invariably fall between preexisting ones. Sometimes they find a useful niche, like netbooks. Other times, they seem like obsessive compulsive attempts to fill a tiny, intentional gap in the spectrum of consumer electronics. Like MID phones!
There really isn't a whole lot that distinguishes a conference like Computex from a real life version of the Ben Heck forums: yesterday, we saw a PC in a vase; today, an Atom-based net-top in a Ferrari.
Mobinnova's élan is the first of Nvidia's dirty dozen to show its face, and it's a pretty one: a nine-inch, sub-two-pound fanless netbook that measures in at about .8-inches thick, and boasts the full battery of Nvidia's exciting Tegra features.
Nvidia is using Computex to herald the arrival of their system-on-a-chip Tegra platform, but it's not the most explosive debut. They've announced 12 netbook and tablet products from relative unknowns, and bizarrely altered their claims about the platform's capabilities.