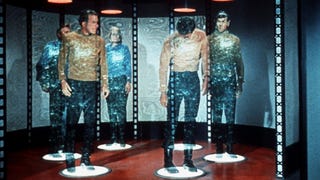 Teleportation is a safe, convenient mode of travel in the Star Trek universe. But what if the Star Trek transporter is essentially a "suicide box" instead? That's the unnerving conclusion of a new animated video from CGP Grey about the trouble with transporters.
Alfred Hitchcock, our master of suspense, was incredibly good at manipulating his audience—a fact that has now come in handy for neuroscientists. When they screened a Hitchcock thriller for volunteers in a brain scanner, they found that brain activity of a man who has been in a vegetative state for 16 years was…
Every one of us loses consciousness on a daily basis: it's called sleep. But scientists have never understood which part of the brain controls when you're conscious and when you're not. Now, researchers seem to have found it by coincidence while studying an epileptic patient—and used electronic brain stimulation to…
Scientific talks can get a little dry, so I try to mix it up. I take out my giant hairy orangutan puppet, do some ventriloquism and quickly become entangled in an argument. I'll be explaining my theory about how the brain — a biological machine — generates consciousness. Kevin, the orangutan, starts heckling me.…
Over at the Atlantic, Steve Paulson has a fascinating interview with "romantic reductionist" neuroscientist Christof Koch, about the science of consciousness and the possibility of a sentient Internet.