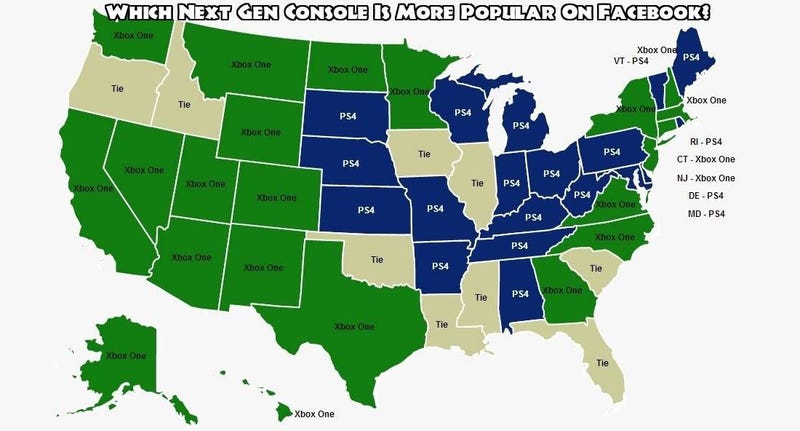 The XBOX One is beating the PS4 — at least on Facebook, if not in sales numbers. A map published by the Movoto Blog takes a look at the popularity of current-gen consoles in every state in the United States based on the number of Facebook likes.
Let's get one thing out of the way: Nobody buys a gaming console for music. Yes, modern consoles increasingly run all kinds of non-game apps — especially the entertainment kind — as the manufacturers of just about every type of consumer electronics aim to be the primary interface between people and their favorites 1s…
Rahul Sood, Voodoo PC founder and current CTO of gaming at HP, spins an interesting yarn about an aborted Microsoft project that would've let PC and Xbox gamers face-off. The only problem? During testing, the PC gamers cleaned Xboxers' clocks.
We just got word from Microsoft that the Xbox 360 is totally sold out in Japan, and that's just how they like it. Microsoft's console has been outselling Sony's Playstation 3 lately at a rate of almost 3 to 1, with the Xbox selling 28,116 last at the start of August while Sony sold only 10,705 PS3s. Nintendo beat both…
Found at a Tokyo retailer, the "Wee" is not everyone's favorite Nintendo console, but a DVD player that can...play DVDs. Yeah, it's a pretty half-assed knockoff that had better at least come with a "Weemote." Japan, we're disappointed in you. Even if you imported the Wee from China. [kotaku]
People like cheap things. Just like the PlayStation 3 price drop caused its sales to tent, the Xbox 360's slash made the Xbox 360 Premium rocket to #11 in sales in video games. The other two, Elite and Core, also went up as well. Forza 2, the 360's racing game, also benefitted from the price drop, launching all the…
Crediting a strategic price cut and a strong E3 showing, Sony is gloating over its latest figures: PS3 sales are up 135% since the July 9th announcement of the $499 price tag. With Xbox 360 sales dropping, new firmware updates enhancing the basic functionality of the system, Blu-ray pushing hard against HD-DVD and a…
Navel-gazing think tankers at Research and Markets say even though the Sony PS3 has lost the opening battle, it will still win the console war, predicting an installed base of 75 million PS3s around the world by 2010. Researchers at the Yankee Group echo that, predicting the PS 3 up top by 2011 with a 44% market…