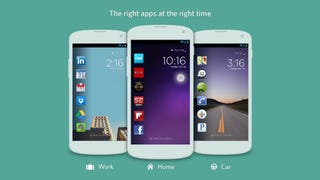 I don't know if I'm more sick of this Gotye song or that Call Me Maybe song (though Gangnam Style is quickly catching up to both of them) but this is actually pretty freaking cool: a bunch of old computer parts—hardrives, scanners, etc—combine to sing the song, 'Somebody That I Used to Know' by Gotye.
Think Microsoft Surface is the only one that gets to have fun with a keyboard hidden in the tablet's cover? Hell naw, quoth Archos. The Gen10 XS Tablet is bringing some old-style clickity-clack to the tablet game. If only they'd made it, you know, work.
Ereaders are literally changing the way we read. But for all the efficiency and portability they offer, they lack the curious romance of reading a book in its hard, physical form—not least the charms that lie on the cover.
Hate cables that run across your wall and look ridiculously ugly? If you are into the organic look, you should check out these Florafil cable covers from Tania da Cruz.
Snow Peak has crafted a beautiful cover for the iPhone 4 made of pressed titanium. The cover slides on the back and is designed to protect the glassy exterior from scratches, dents and dings.
Maybe if you had a free weekend and Mjǫllnir, hammer of Thor, you could crack Corning's Gorilla Glass. But that's a made-up thing! And this stuff is impervious to the very real threats of key scratching and localized pressure.
Ars Technica posted a guide showing how to make a laptop sleeve out of any fabric you happen to have lying around. It probably won't protect your laptop from falls, but it'll provide some style and probably reduce scratches.
Do kids nowadays even know what TV test screens look like? In the world of 24 hour broadcasting, how often do stations prefer to put these up instead of some Everybody Loves Raymond rerun? Not very often, but if you want to re-live those glory days of annoyingly bright colors in felt form, there's this TV Cozy. The…
First I thought "ah... what a cute gimmick" about this Is.a.Brella thing, but then I realized the essential cleverness of the design. You're in a rush to get on the train on a rainy day: furl your Is.a.Brella, leap aboard, slide it into the bottle cover keeping it compact and tidy, and stop all those trapped raindrops…
Instead of manually checking the water with your hands to make sure it's not too warm or cold, just plop on this digital bath spout cover and be done with it. The easy-to-read display shows both the temperature in number form and in color form. Once you get your water just right, dump your child inside and get back to…
A gimmicky gift for grandma, this fuzzy mouse cover could be the tackiest thing we've seen all day. It's a mouse cover. That's shaped like a mouse. And comes in a cheese-themed box. Great. If you order 500, you can get'm at a quantity discount.