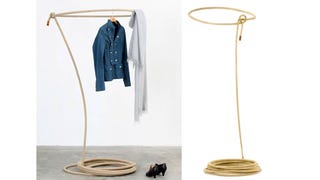 There's always been some kind of mystique about the wild west and cowboys. And if you've ever stared in awe while they roped a cattle, wondering how they could pull off such a feat, it's no longer a mystery. It's obviously the same thing that keeps this Lasso Wardrobe frozen in time—straight up magic.
When the Dallas Cowboys blew up Texas Stadium this week—punting accident—they had the good sense to put in a 3D camera rig inside. Click and drag to move the camera around. And turn up the sound. Boom!
After their giant screen blocked a punt, you'd figure the owners of the Dallas Cowboys stadium would be extra careful with their massive displays—but it looks like somebody didn't shut down his computer properly. Whoops! [Thanks, Richard!]
Despite the fact that the Cowboys' new 180-foot HD screen has already blocked a punt and the NFL season hasn't even started yet, the league is going to let it stay put. At least this year.
During last night's Tennessee-Dallas game, a Titans punter actually hit Dallas's massive 180-foot-long HD screen, creating a bit of a situation: The play isn't reviewable, and there's no provision for a replay. The solution may cost millions of dollars.
The Dallas Cowboys will be taking over the world's largest video screen crown from that Japanese race track in 2009. Their HDTV will be a total of 11,200 square feet-actually bigger than when they were talking about this back in 2006-which beats the 8,066 sqft. Tokyo Racetrack one by quite a large margin. If 159 feet…