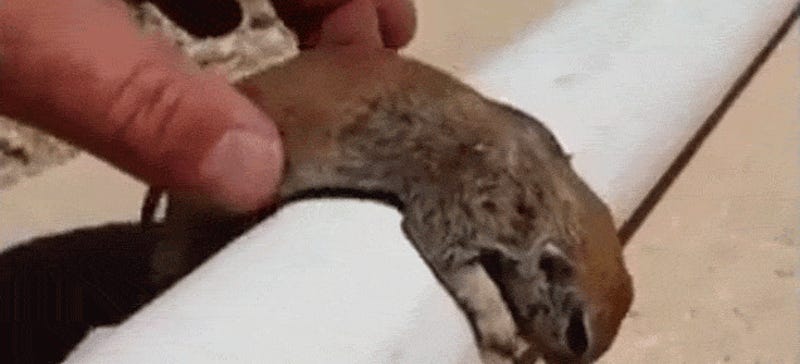 This cute little squirrel has a pool repairman to thank for saving its life. When the little critter was found floating in a pool in Phoenix, Rick Gruber, the pool guy, resuscitated it back to life by performing a little bit of CPR. After a few minutes of pumping its lungs, the squirrel was breathing again.
The question of how long someone's heart would have to be stopped for before you can safely say that regardless of what you do, you're not going to be able to revive them is avery tricky question. It's not as simple as saying after 10 or even 20 minutes there's no hope. For instance, there are countless people who…
Ninety six minutes. Eleven shocks by defibrillator. Two dozen rescuers pounding his chest in shifts to bring vital oxygen to his limp body. A helicopter, even. That's what it took to revive 54-year old Howard Snitzer this month. Oh, and a little celebrated thing called a capnography machine that let everyone know that…
The Fire Department app connects those trained in CPR with those who need it, much like your colleagues who've put their hands up to be the building's first-aid volunteers. Using the iPhone's GPS, it alerts trained users of nearby casualties.
Meet the manikins (not to be confused with mankinis), medical dummies (spelled "manikin", apparently) used to train future doctors on how to do the bare minimum to keep you alive that the HMO will pay for. There are all types, from the sexy Overweight CPR manikin to the Deluxe Child Crisis manikin. My favorite is the…
This concept is a gizmo which you'd have in a first aid kit to help you if someone collapses and needs CPR. You'd whack it on the chest of the ill person, line it up and follow its instructions. It flashes to give you proper timing, and clicks to let you know you're using the right chest-compression pressure (it's…
The AutoPulse by Zoll is an automated CPR device that can not only replace someone performing life-saving chest compressions, but that can actually implement these compressions more effectively than human hands. Essentially a battery-operated band that wraps around the chest of a patient, by squeezing a larger area…
Designed by students at the Royal College of Art in London, Tongue Sucker is a simple gadget to help people untrained in first-aid administer CPR during emergencies, as well as solving the hygiene problem for people unwilling to get up close and personal with a stranger in order to save his or her life. The idea,…
Not only is this CPR glove badass because it could potentially save lives, it is even more amazing because it looks somewhat like a Nintendo Power Glove and can give that bionic/robot look you have always dreamed of. The CPR glove was the brainwork of students at the McMaster (not to be confused with McDonalds, their…