"Eating bugs is a great idea!" shout future-minded gourmets, the kinds of people who eat waxworm tacos willingly and feed bug cookies to their coworkers. But are insects like crickets and grasshoppers really the solution to our environmental and food-security woes? Well... maybe not. Not entirely, at least.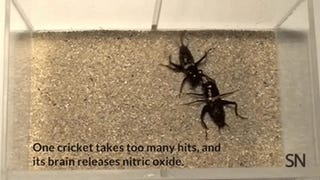 Nitric oxide may be better known for turbo-charging snails, but rather than boosting aggressive behavior, this brain chemical deals crickets a healthy dose of fear, telling them when to throw the towel in and flee a fight.
You may feel squeamish about chomping down insects with their eyes, legs, and antennae still intact, but would you eat insects if they were disguised in butter and sugar-filled cookies? We baked chocolate chip cookies made from pulverized insects and brought them to our office where our brave coworkers tasted them.
If I had a truly sophisticated palate and open mind I wouldn't even blink when I read that there was cricket flour in my granola bar. But I am unrefined and simple. The idea of a cricket bar makes me simultaneously concerned and curious. For some reason I feel like "slow roasted and milled crickets" could be good.
While a huge amount of research has examined how plants and animals looked in the prehistoric past, we know extremely little about what these creatures would have sounded like (Dr. Alan Grant's 3D-printed raptor voice box in Jurassic Park 3 notwithstanding). But now, we finally have some idea of one noise that would…
While District 9 is certainly an allegory for racism and apartheid in South Africa, not all of its South African inspirations are political. Neill Blomkamp's aliens were inspired, in part, by a common Johannesburg pest: the Parktown Prawn.
Mormon crickets are insects with multiple wives who live in Utah, travelling to Nevada to eat crops and play craps—or something like that. I'm not David Attenborough, ok? One real thing: They hate rock music.