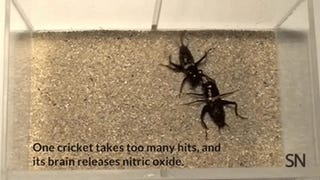 Nitric oxide may be better known for turbo-charging snails, but rather than boosting aggressive behavior, this brain chemical deals crickets a healthy dose of fear, telling them when to throw the towel in and flee a fight.
If I had a truly sophisticated palate and open mind I wouldn't even blink when I read that there was cricket flour in my granola bar. But I am unrefined and simple. The idea of a cricket bar makes me simultaneously concerned and curious. For some reason I feel like "slow roasted and milled crickets" could be good.
Mormon crickets are insects with multiple wives who live in Utah, travelling to Nevada to eat crops and play craps—or something like that. I'm not David Attenborough, ok? One real thing: They hate rock music.