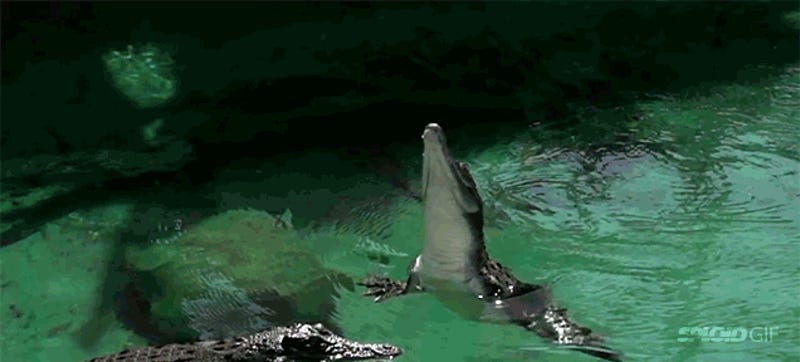 It's hard to believe how effortlessly and elegantly this crocodile goes out of the water. It looks like he's actually swimming vertically into the air, as if he weren't aware of the laws of physics and the differences of density between liquid and gas. Impressive animal (that freaks the hell out of me.)
This image is so weird and rare that you may think it's a bizarre photoshop. It's not—it was taken by aquatic ecologist Carlos de la Rosa, who says it's a extremely rare and unique photo. The butterfly and the bee drank the tears from a Caiman crocodilus for 15 minutes. There's video too:
The natural world might be awe-inspiring, but that's not to say that it doesn't share similarities with the technological world that we inhabit. In fact, as biologists have come to look at creatures in closer detail, they've discovered that some of them have been using basics of engineering—that we now take for…
As if whacking GPS, 3G, an accelerometer and optical touchpads onto the new Vaio P wasn't enough, Sony's only gone and painted it with crocodile skin now.
A Brit named David Baker wants you to believe that his Crocodile Keyboard concept—for which he's submitted a patent application—is the best way for big fat fingers to type on LCDs, because there's more dead space to absorb accidental taps. Good idea, secret Trek shoutout or both? [Register]
Watchmaker Tag Heuer today announced its Vertu wannabe, the Meridiist. Like others in its class, its high price doesn't seem to justify the goods, unless you count a choice of crocodile, leather or rubber, a sapphire crystal main screen and a famous name. The specs are almost entirely unimpressive: 1.9" QVGA main…
We know, we know. You're just as sad as we are to hear that our favorite croc-wrangling Aussie passed away. Here's a remote controlled Crocodile that we post in his honor. The infrared controlled croc sways its tail and head as it swaggers across your poolside deck. It's not waterproof, but its jaws snap. And the…