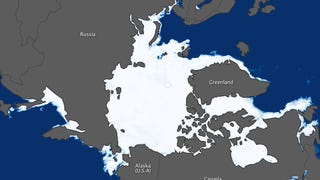 The National Snow and Ice Data Center has just released the results of its latest analysis of Arctic sea ice. Surprise—the prognosis is not good. The maximum extent of Arctic sea ice occurred early this year, and, at 5.61 million square miles, was the smallest in four decades.
We humans love to eat, and we love to drink. So it's no surprise that we're always trying to come up with solid forms of alcohol, to eat what we can drink. Alcoholic ice cream, dippin' dots, molecular mixology, and jello shots are all means to this end. So, when we heard about edible ice spheres, we knew it was our…
Did you know that there is something called "cryosphere" on this little blue gem called Earth? I didn't. And I didn't know that seeing it animated from thousands of satellite high definition photographs could look so cool.