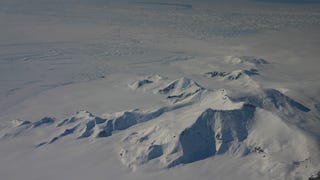 On an forbidding shoreline at the bottom of the world, the prodigious ice sheets of West Antarctica dead-end in the Amundsen sea. For decades, scientists have been monitoring this interface of rock, ice and ocean, in order to understand how quickly it'll retreat as the planet warms up. A new study shows that three of…
When the first deadly avalanche struck the Aru Range in Tibet on July 17th, scientists were puzzled. But when a second enormous ice slide occurred just a few kilometers south and two months later, they were shocked.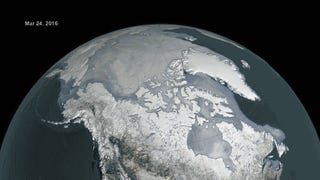 The National Snow and Ice Data Center has just released the results of its latest analysis of Arctic sea ice. Surprise—the prognosis is not good. The maximum extent of Arctic sea ice occurred early this year, and, at 5.61 million square miles, was the smallest in four decades.
We humans love to eat, and we love to drink. So it's no surprise that we're always trying to come up with solid forms of alcohol, to eat what we can drink. Alcoholic ice cream, dippin' dots, molecular mixology, and jello shots are all means to this end. So, when we heard about edible ice spheres, we knew it was our…
The cryosphere are the parts of the Earth's surface which are covered with water in solid form. It could be snow and ice in glaciers, permafrost, ice sheets, icebergs, and—I hope—glasses full of bourbon. Apparently, scientists are now discovering that the cryosphere plays a fundamental role in regulating Earth's…