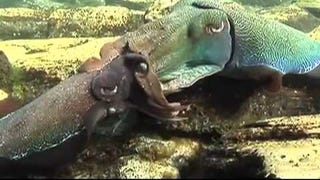 Giant cuttlefish have some unusual mating rituals. But once they find a suitable partner, the act of knocking boots (er, tentacles?) is kind of incredible to watch.
Underwater craft have come a long way since Bond drove that Lotus into the sea, but even today, they still have problems: conventional propeller-driver robots get tangled on underwater obstacles like seaweed and rope, and the noise confuses the cute little dolphins who use vibrations to navigate. That's why this…
It's seafood for breakfast in the home of Nathan Shields. Octopuses, squids, cuttlefish, and even a few extinct critters have found their way onto his kids' breakfast plates. It's an adventure in taxonomy and cookery, all at once!
If you don't have tickets to Laser Floyd at your neighborhood planetarium tonight, just watch 199 seconds of Metasepia pfefferi — a.k.a. Pfeffer's Flamboyant Cuttlefish — creating its own variegated light show. Some of you may tempted to lick these creatures and pop on some Jethro Tull, but that's not the best idea,…
In this excerpt from the BBC/Discovery documentary Life, we learn about a mating strategy that's fairly common in the animal world. A female cuttlefish is courted by two males. One is large and dominant, fighting off other males in order to fertilize the female's eggs. The other is what's known rather judgmentally…
Cuttlefish — by far the coolest of the cephalopods — are brilliant at camouflage, to the point where they'll actually use their hands and body orientation to mimic objects around them. For the first time, we know that they are relying on visual cues to do so.
This is an illustration of a giant cuttlefish battling brave sailors, depicted in a popular science book from 1872, called The Ocean World, by Louis Figuier. And that's not the least of the weirdness that lurks in Figuier's book.