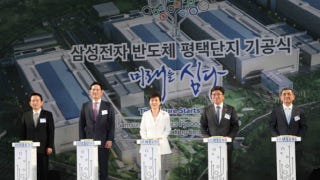 Samsung already makes the most smartphones in the world, but now the South Korean company is pushing to make the most semiconductors. Samsung just started constructing its own version of Silicon Valley, starting with $14 billion semiconductor complex larger than 400 football fields.
This is all hypothetical, but what would happen to the iPhone 4 if Apple's vigorous legal campaign against Samsung caused an irreparable rift between the two companies?
Not being much of a crazy overclocking modder myself, I don't really get the ridiculous Fast and the Furious design on this A-Data XPG Plus RAM, but the stats don't lie—this module is super speedy at 2,200MHz.
A glut of supply has kept DRAM prices at rock-bottom lows recently, but now that the second-largest supplier of RAM chips—Germany's Qimonda AG—has filed for bankruptcy, we could be in for a price spike.
Sure, it costs $30 a GB, but Fusion-io's new ioDrive flash card promises ridiculous 800MB/sec (Read) and 600MB/sec (Write) sustained data transfer rates. That would mean performance on par with DRAM, which would be about a thousand times faster than any existing disk drive. Basically, it's like packing an enterprise…
Oops. Samsung may have to take a rap on the hand for fixing prices on dynamic random access memory (DRAM) chips that use Rambus technology. Samsung has actually put in a plea agreement that would let the company pay a $300 million fee over five years, though a US District Court judge in the San Francisco Division is…