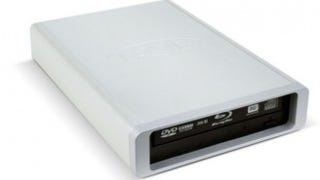 Lacie has updated its external d2 Blu-ray burner to write at 4x speeds, twice as fast as its predecessor. The BD drive supports 25 or 50 GB BD-R and BD-RE discs, as well as multiple DVD and CD formats. In addition, the aluminum alloy case has been redesigned by Neil Poulton, giving it a more simple and appealing look.…
Ever spend five minutes yelling, "SIT! SIT! SIT!" at your DS only to have the other people on the subway get up and move away like you were a psycho? Check out this Ear Force D2 from Turtle Beach. This Nintendo DS headset includes both headphones and a mic, which means you can both hear and speak without bothering…
We've been keeping an eye on Cowon ever since it (among others) was rated above the iPod Nano in Consumer Reports' contest. Its latest D2 touchscreen player doesn't disappoint.
Cowon has finally announced their latest PMP, the D2. This boxy PMP has a 2.5-inch screen that display at 320x240 resolution, up to 4GB of internal storage, up to 45 hours of battery life, integrated DMB, SD expandability, touchscreen, FM radio, and support for WMV9, MPEG4, MP3, Ogg, WMA and FLAC.
Back when we were young, lawns were for getting on instead of getting off, and DJs used these weird black things made of wax that spun around. Times are a-changing with the Numark D2 Director USB DJ rig.