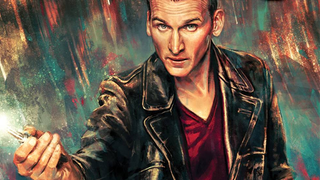 10 years after he made his début, the Ninth Doctor is back in a new comic miniseries. But that's not all for this week's hottest new comics: DC's reality-altering Convergence event begins, the origins of Star Wars: Rebels' Kanan Jarrus are revealed, and an intriguing new series from Boom! Studios begins. Comics!
Image Comic's Descender hits this week — a comic about outlawed androids so intriguing, Sony already wants to turn it into a film. But that's not all: Princess Leia begins her series, a new Boom! series sees regular convention guests turn convention robbers, and Scarlet Witch and Quicksilver's MCU origins are revealed.
Superman has to pull out all the stops in his battle against Ulysses this week - and that means a whole new superpower and some shiny new threads. Elsewhere, Luke and Darth Vader go toe-to-toe as Marvel's Star Wars continues, The Goon begins its final arc, and Image starts two intriguing new series!
The second Archer episode of its sixth season is even better than the first, and it hints at what's to come in its title: "Three to Tango." A trip to Argentina perhaps? Spoilers ahead!
This scene. It doesn't belong to Tony Scott (RIP) anymore. It is Archer's through and through. The guys behind the FX show remade the iconic scene shot-for-shot and everything about it is perfect. [Archer]