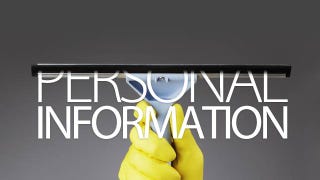 After our social media background check, are you afraid of what a future employer may find out about you? Rest easy as we have some tips to help you remove your personal information from more than a dozen online background check websites.
Who knows if this little bit of database wizardry would actually cause the traffic camera's picture-parsing computer to drop a table? Even if it doesn't it's covered up his actual license plate. [See Also]
The FBI is planning to spend $1 billion on the world's largest biometric database. The database will be used to create a big brother state, in which you will ultimately have little autonomy assist the FBI's efforts in catching the bad guys. Apparently, compilation of digital images, including mug shots, fingerprints…
ThingM's WineM is one part intelligent wine rack, one part light show. This concept, currently on display at NextFest, works by taking bottles of wine tagged with RFID stickers and placing them onto the rack. Now if you're having Lamb Shank for dinner and want a decent Shiraz, just input into the computer that you…
With my recent discovery of Carcassonne, folks have been coming out of the woodwork telling me all about the games I should be playing. Ok, I'll try my hardest.