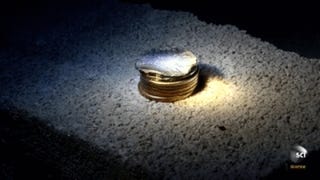 Burning ants with a magnifying glass is a long-accepted childhood pastime and possible indicator of sociopathy. But when Kevin Moore and Grant Reynolds at the Science Channel got the idea to more effectively harness the sun's destructive heat, they decided to go big...like 1,5oo degrees Fahrenheit big.
We're pretty obsessed with the idea of a death ray. After all, we constantly see these weapons of mass annihilation in movies, read about them in books, and run from them in nightmares. But why haven't we invented one yet?
The MEDUSA crowd control ray gun we reported on earlier this month sounded like some pretty amazing-and downright scary-technology. Using the microwave auditory effect, the beam, in theory, would have put sounds and voice-like noises in your head, thereby driving you away from the area. Crowd control via voices in…
For this week's retromodo installation, we're looking at the Death Ray Machine, (awesome name). Apparently, the device was put together by a Cleveland scientist, and its abilities were only showcased in a one time display to members of the National Inventors' Congress at Omaha, Nebraska. The Death Ray Machine was…
Those mad scientists are at it again. David Cassidy and Allen Mills, a couple of propellerheads at the University of California, Riverside are using the stuff of science fiction, antimatter, to create gamma ray lasers they say could be a million times more powerful than the lasers we're using to watch Blu-ray discs.…
Click to viewThere is no bigger tease that robot art. It's like hopping inside a Ferrari, hitting the gas and realizing that there is no engine inside. But then you remember: it's owning a Ferrari gets you laid, not driving one. (Or so we understand).