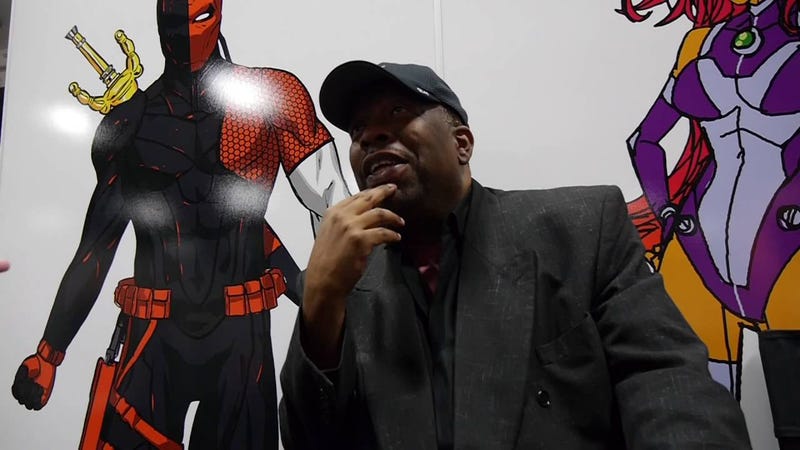 Somewhere during a four-decade career in editing and scripting comics, Christopher Priest found himself categorized as a "black writer," despite having written Batman, Spider-Man, and other icons. He drifted away from the industry out of frustration, leaving fans of his incisive approach all the poorer. He's back now,…
When there's a movie as big as Batman v Superman on the way, all sorts of wild and wonderful rumors make their way onto the web. Who's in it? Who are the villains? Are there other superhero cameos? Then there's the absolute crazy ones, like this: What if Ben Affleck's Batman... wasn't really Batman at all?
There's big changes coming to the world of DC as the New 52 era finally comes to a close. Last week we got a glimpse of what was to come with the new, heavily armored Batman, and now 10 more preview comics have been released, teasing the futures of Superman, Aquaman's new costume and more.
Superhero romance is a bit like unstable nitroglycerine, in that A.) it's very rarely handled well; and B.) it often blows up in everybody's face. Here are ten times your favorite crime-stoppers experienced relationship foibles mere mortals like you and I can barely comprehend. Remember when Superman made an adult…
DC Comics' Blackest Night crossover has been a demented monster mash of superheroics and ravenous zombies. Sadly, it looks like DC's do-gooders will prevail over the undead when DC releases its newest mega-event – Brightest Day – this April.
This morning's batch of spoilers includes yet another bunch of hints for the new Star Trek movie, which continues to sound more and more like a cheese-fest. There's also spoilers (and delusional theories) for Lost, new photos from Iron Man, and a behind-the-scenes video of the filming of X-Files 2. Click through to…