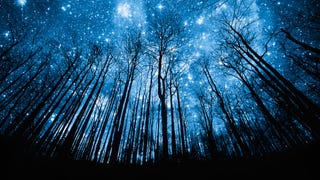 While the recent smack down between Bill Nye and Ken Ham grabbed all the headlines, the scientific community was far more captivated by a debate featuring physicist Sean Carroll and theologian William Lane Craig that explored the existence of God in light of contemporary cosmology.
As philosophical debates go, it doesn't get much better than this. On January 28, 1948, British logician Betrand Russel faced off against Jesuit priest F.C. Copleston on BBC radio in a now-famous debate over the existence of god, and the metaphysical and moral implications of a god-governed (or godless) universe.…
There were more options for watching the debate last night than ever—YouTube, the Obama 2012 homepage, Xbox Live, etc.—and it also happened to be the most tweeted about political event in US history.
Are video games like Fallout 3 teaching our children the skills they'll need, like gathering dew from human skulls, when their world eventually turns into a brutal hellscape? A video debate helps you decide.
After weeks of wrangling, Wired had finally gotten commitments from high-level surrogates from both the Obama and McCain campaigns to participate in a debate about technology yesterday afternoon. So how did it go? It didn't. The McCain campaign canceled a few hours before the event, with no plans to reschedule. While…
Tonight is the final part of the talent portion of the Mr. President 2008 pageant, which I've been reading is like the most important one in our lifetime or something, but I think they say about that about all of them. Regardless, if you're stuck at your computer and can't get to a TV, don't worry, you don't have to…
Whereas a live online stream of the first presidential debate was a bit harder to pin down, our pick for tonight's at 9PM Eastern is Hulu. Its live stream of the final two presidential debates is actually Hulu's first ever live broadcast, which is something they might do more of following the debates. (Unfortunately,…
One of the biggest debates among people who like scifi — aside from the Star Wars vs. Star Trek thing — is where to draw the line between science and magic. Some adhere to the idea that magic is simply science that we don't yet understand, others feel that magic represents an essential mystery that can't be…